After Jasper, we started a series of long drives with the first destination of Dawson Creek.
Dawson Creek is the historic start of the Alaskan Highway and of course we had to get the obligatory Mile 0 photograph.
We have learned that DEF fluid along the ALCAN can be hard to find so one of the things we did was stock up in Dawson. We are now carrying 10+ gallons of DEF fluid which should be enough to get us to Fairbanks.
We then overnighted in Fort Nelson, BC, a small community on outskirts of civilization.
The next stop was a real treat: Liard Hot Springs. This place is one of the special places in the world and the only reason it is not saturated with visitors is its remote location along the ALCAN.
Liard was first build by the workers on the original ALCAN in the 1940s as an R&R place. When it was turned back to the Canadian people the BC Parts turned it into something magical. I won't try to describe it – my previous efforts in that have failed miserably. The interest reader is encouraged to google it and be amazed at the beauty.
We overnighted next to Liard in a "RV Resort". Apparently the Caravan could not get reservations to stay in the Park itself which is what we would recommend to anyone RVing up the ALCAN. We were not impressed with the "RV Resort" with it's contaminated water, lack of sewers and loud diesel generator.
The next day we drove to Watson lake. The drive quite nice with lots of wild animals spotted from the road, including a Grizzly bear and some bison.
Watson lake is the home of the famous sign post forest started by the GIs during WW2. Our Caravan left a sign of our own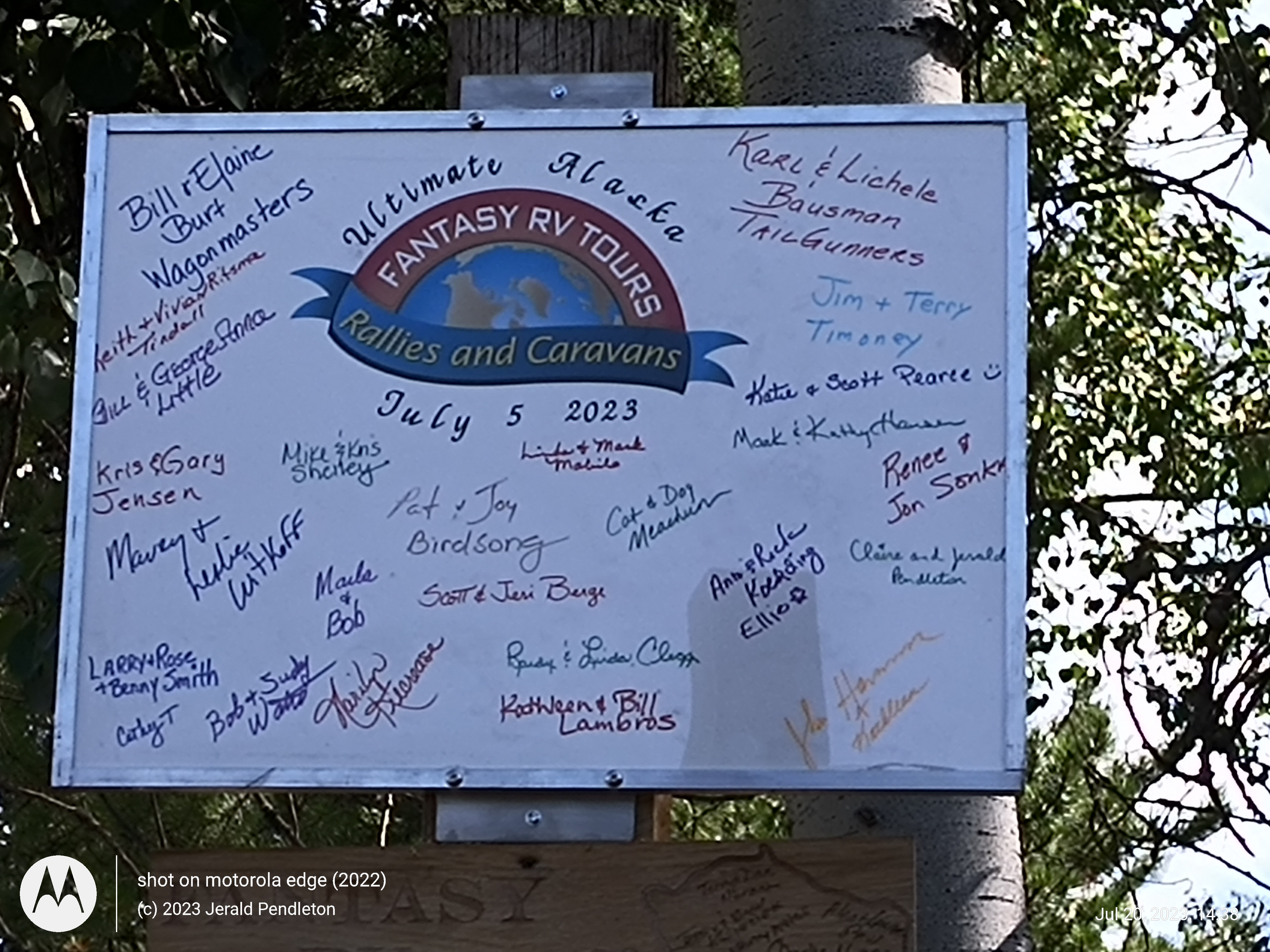 After Watson Lake we continued on the Alaskan Highway to the Yukon city of Whitehorse. This town 23k people strong is the provincial capitol of the Yukon. We have long believed that this incredible little town deserves much more than an overnight from the passings RVs.