We had an unpleasant incident.
On Memorial Day 2022 we were boondocked in the Ely Elk Viewing BLM dispersed campground. We had spent the night, pulling in about 7:00PM. We shared the campground with class-B camper and a pickup truck pulling a white trailer. The pickup, strangely, had its headlights on and they stayed on until we went to bed.
The night was uneventful, but cold. It was below freezing all night. The next morning we got up, got our showers, dressed and took the dog on a long walk around the Elk viewing area. While we were walking out, I noticed the guy in the pickup truck walking around.
While we were walking we heard number of "KaChunks". I thought he was fixing something on his truck or maybe hitting it in a temper tantrum because his battery was dead.
We walked about a mile out and a mile back thrilling the dog no end. As we got back to our Motorhome, the main door which was on the far side of the Motorhome was standing open. The door had a large hole in it where someone had broken in.
I entered the Motorhome and checked to see if anyone was in there – there wasn't. We could not see anything missing. All of the expensive electronics were still in place, our valuables untouched. We noticed that some of the interior moulding had been damaged as if by an axe.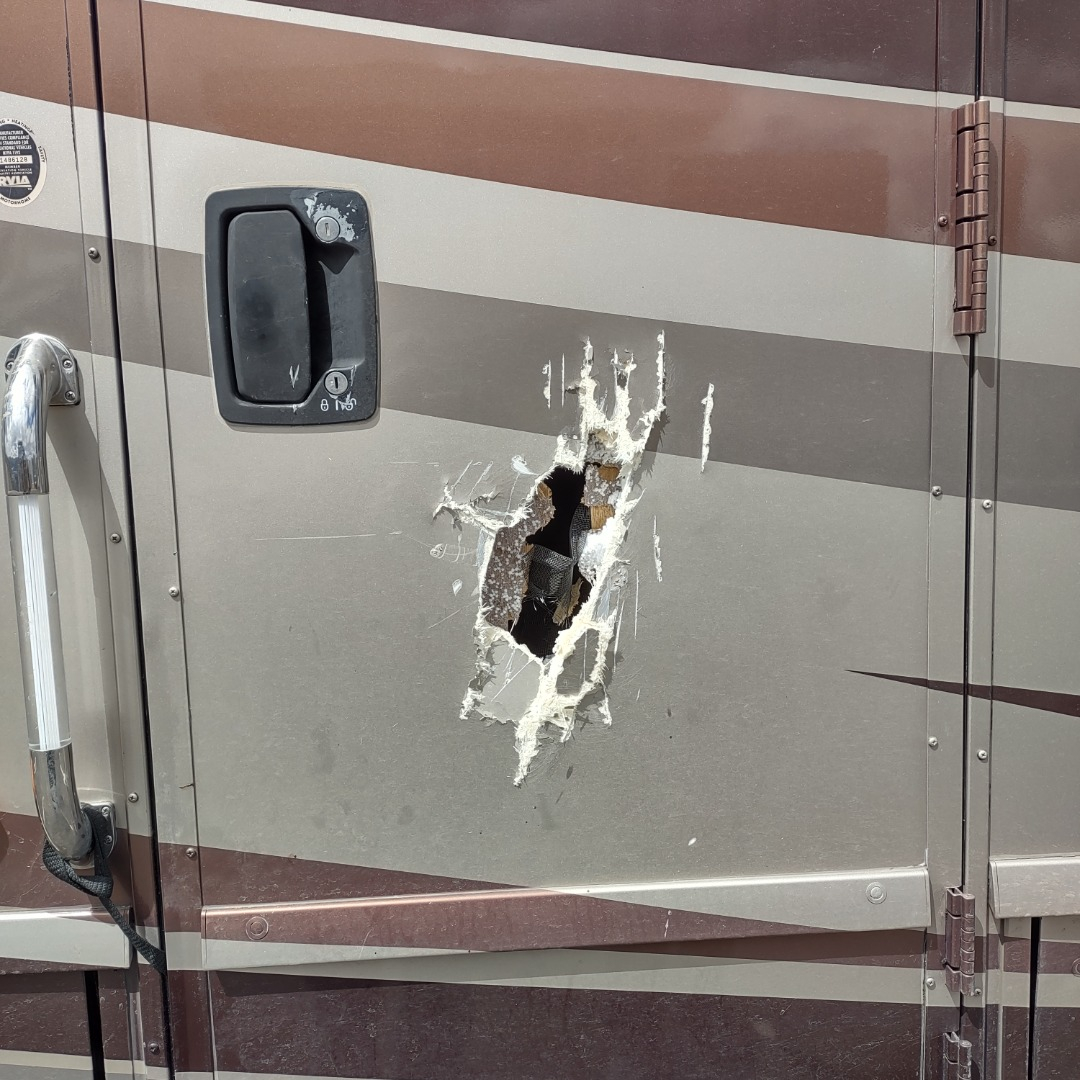 We really didn't know what to do, and we decided to go back in Ely and file a police report. I decided to go out and talk with the guy in the pickup truck and see if he knew/saw anything. I walked over towards his truck and he met me about 2/3s of the way to his truck.
"Hi There.", I said, "I have that RV over there and looks like someone took an axe to the door".
Without hesitation, he said "Yep. That was me."
I was taken aback. I stammered a bit while he apologized and said he felt embarrassed.
When I finally found my words again, I asked him "why?".
"Oh it is my religion. The religion of violence."
Ah….ok. At this point I started to politely disengage and get away from him without setting him off. But before I could he insisted that I take his drivers license, his truck license and his trailer license. He offered to give me the hatchet, but I declined. He offered to pay the damages, double and triple. I declined and told him, it was issue for the insurance company. While I was getting his license plate, I noted that he had been using that hatchet on his own pickup – a late modeled fairly nice (once) pickup.
I walked away from him, keeping an eye turned backwards until I got to the RV.
Claire had started the engine and much to my relief pulled in the slides. I told her "De-Level and drive now!! It was him!" She was already on the phone to the 911 dispatcher in Ely.
We pulled the jacks and got out of the campground.
We drove into Ely and a Deputy Sheriff was waiting for us. He took our statements and then drove, with a partner, out to the campsite. While talking to the guy, he admitted everything to the sheriff.
They arrested him on the spot.
So as of this writing, he's in jail, we have a large hole in our door, a damaged screen, damaged interior moulding and an appointment in Forest City Iowa on October 3 for repairs.
Helluva way to start a roadtrip.